To support the delivery of our ESG vision, "Delivering to a Better World", we are looking to appoint four ESG Champion positions from various business functions from across C&C Group to fill vacancies that have arisen within the team.
The six pillars of our ESG framework, guides our approach –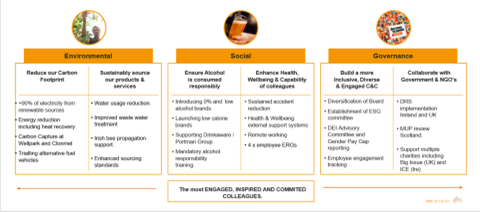 Our Champions support how we bring ESG to life for all stakeholders and how we aim to embed ESG in everything we do. You will also help make ESG meaningful for colleagues and how we encourage them to participate. Given the strategic focus on ESG at C&C, you will be involved in projects that touch every area of our business.
You will also be part of our quarterly Board Level ESG Committee, where you will present and offer feedback on our ESG initiatives. This will provide you with great exposure on how PLCs operate.
Our ESG Champions are part of a team that includes C&C's Director of Corporate Affairs and Communications, Head of ESG, Company Secretary function and Head of Group Engineering.
This is a fantastic opportunity for anyone that wants to be involved in helping shape the future of C&C at a strategic level.
We're looking for Champions from across the business who have a true passion for ESG matters – you may already be involved in sustainability through your current role or in your personal life. If you're interested in this opportunity, we'd love to hear from you!
Please Note - ESG Champions will be appointed on an 18-month term and the role is in addition to your current role.
If you're interested in applying for this opportunity, we would ask that you submit a short email (no more than 500 words) outlining why you would be right for the role to George.kyle@candcgroup.com by 25th August 2023.